Hotel Europa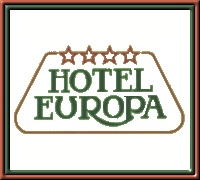 BOOKING FORM - RICHIESTA PRENOTAZIONE
---
HOTEL EUROPA
In un'atmosfera elegante e raffinata, nel cuore di Rende, l'Hotel Europa si propone come meta ideale sia per piacevoli soggiorni che per importanti incontri di lavoro.

L' esperienza, cortesia, competenza sono alcuni "particolari" importanti che fanno dell'Hotel Europa uno degli alberghi più ospitali della Calabria.

Servizi: Situato nel cuore di Rende al confine con la città di Cosenza, l'Hotel Europa è dotato di: American Bar, discoteca, garage, pacheggio ed una piscina per i momenti di relax.

Camere: Camere e suites sono dotate di tutti i comforts quali:

- Aria condizionata
- Frigo bar
- TV color
- Telefono con linea diretta

La calda atmosfera delle camere accompagnano gli Ospiti dell'albergo nel loro soggiorno.
I bagni, spaziosi ed eleganti con asciuga capelli a parete, linea di cortesia e biancheria personalizzata.
Le nostre Suites sono realmente l'espressione del massimo comfort: con Tv e bagno con vasca idromassaggio.

Centro Congressi "Europa": Efficienza e tecnologia all'avanguardia sono le caratteristiche dell'Area Meeting e Convegni. Una recentissima ristrutturazione ha dotato l'Hotel Europa di una struttura congressuale con 6 sale riunioni ed una sala plenaria posta al piano terra con capienza di 800 posti con climatizzatore a portata variabile, traduzione simultanea, video conferenze, business center. Le sale polifunzionali insonorizzate consentono diverse soluzioni di spazio per ospitare convegni, corsi di formazione, showrooms e gala dinner. L'importanza di un servizio personalizzato e di qualità, l'assistenza tecnica permanente, le moderne attrezzature, in un ambiente sereno e accogliente incorniciano ogni manifestazione garantendone la perfetta riuscita.

Ristorante: ll Ristorante dell'Hotel Europa, grazie alla sua cucina raffinata, si propone come la scelta di classe per realizzare banchetti, cerimonie, colazioni di lavoro, cene di gala: una garanzia di successo.
Bar,
Camere,
Parcheggio privato,
Telefono in camera,
Ristorante,
Bagno con doccia,
Piscina,
Tv Color,
Acensore,
Idromassaggio,
Cassaforte,
Aria Condizionata,
Frigo Bar,
Spiaggia Privata,
Si accetta Carte di Credito,
---
Dove siamo:

---
EUROPA HOTEL
In an elegant and distinction atmosphere, in the heart of Rende, the Hotel Europa propose like ideal target agreeable sojourns and importants meetings of work.

The experiencer, courtesy, capability, are important "particulars" that make the Hotel Europa one of the most hospitalble hotels in Calabria.

Facilities:It is situated in the centre of Rende (CS) that boarders with the town of Cosenza, the Hotel Europa offers american bar, discotheque, garage, cars park and a swimming-pool for moments of relaxation.

Rooms: The rooms and suites are fitted with all the comforts:

- Air-conditioning
- Mini-bar
- Colour TV
- Direct-dial telephone

The natural warmth of wooden flooring and the captivating atmosphere of our rooms with their distinctive glamour and welcoming charm follow the Guest during their stay in Rende.
Spacious and elegant bathrooms with shower cabin or hair- dryer on wall, bath towel warmer, personalized line of courtesy items and linen.
Our Suite is a true expression of the highest comfort: bathrooms with watermassage's bath.

Congress Center "Europa": Avant garde efficiency and technology are the caracteristics of the meeting and conference area .Following its recent re-structuring, the Hotel Europa now offers 6 meeting rooms and a plenary room located on the fround floor with a capacity of 800 places with air-conditioning that can be adjusted for the varying capacity, simultaneous translating, conference vifeo, business center. The soundproof rooms are multifunctional and therefore it is possible to adapt the space to the wishes of the client in, for example, a convention room, a room to give courses, as a showroom or the perfect place to organise a gala dinner. The importance of quality is evident and combined with a personalised service, the permanent technical assistance, modern equipment (videoprojection and videoconference isdn) in a serene and inviting environment are the frame work and the guarantee for a succesful meeting.

Restaurant: The Hotel Europa's Restaurant, thanks to its refined cuisine, proposes itself as the best choice for holding banquets, cerimonies, business lunches and gala dinners, a guarantee for success.
Bar,
Rooms,
Private Parking,
Phone in room,
Restaurant,
Bathroom with shower,
Swimming-pool,
Tv Color,
Lift,
Idromassaggio,
Safe,
Conditioned air,
Minibar,
Private Beach,
Credit Card accept,
---
Where we are:

Hotel Europa
Via J.F. Kennedy - Località Roges, Rende, CS, Italy