Hotel Ristorante del Lago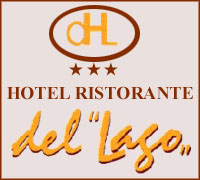 BOOKING FORM - RICHIESTA PRENOTAZIONE
---
HOTEL DEL LAGO


Ubicazione: Nel cuore della Sila Piccola, proprio sulle sponde del lago Ampolllino, nei pressi dei villaggi Palumbo e Trepidò, sorge l'Hotel del Lago, un confortevole complesso alberghiero recentemente ristrutturato.

Camere e Servizi: Ubicato ai margini di una rigogliosa pineta, dispone di comode camere, alcune delle quali vista lago, con servizi, telefono diretto e tv; possiede inoltre bar, parcheggio, giardino, discoteca, sala giochi e tavernetta.

Sport: Posto a breve distanza dagli impianti di risalita e dalle piste di bob, l'albergo offre inoltre la possibilita' di praticare diversi altri sport, come nuoto, windsurf ed equitazione.

Cucina: La cucina e' particolarmente curata. Nella tavernetta dell'hotel si tengono spesso "gustosi" incontri gastronomici, nel corso dei quali gli ospiti vengono informati sulle tradizioni culinarie del comprensorio silano. Il ristorante, caldo e accogliente, offre il meglio della tradizione gastronomica del luogo e squisiti prodotti tipici, quali funghi, insaccati, appetitose conserve, formaggi freschi e stagionati di produzione locale. Ottimi i primi piatti, come le tagliatelle ai funghi porcini o i gustosi maccheroni "fatti in casa". Da non trascurare i secondi, a base di funghi o di genuine carni ovine o bovine. Ricca e ben assortita, infine, la lista vini, che offre il meglio delle etichette locali e nazionali.

Escursioni: Base ideale per escursioni a piedi o a cavallo sia nella Sila Piccola che in quella Grande, vicino al lago Ampollino e a quello del Passante, cosi' come ai corsi d'acqua Alli, Simeri e Tacina, ideali per gli amanti degli sport acquatici e della pesca, l'Hotel del Lago si trova inoltre a breve distanza da suggestivi centri montani come Cotronei, San Giovanni in Fiore, con l'antica abbazia fondata alla fine del XII secolo, Acerenthia, borgo medioevale disabitato ormai da secoli, e Santa Severina, col magnifico castello normanno.
Bar,
Camere,
Giardino/Parco,
Zona panoramica,
Parcheggio privato,
Telefono in camera,
Ristorante,
Bagno con doccia,
Tv Color,
Acensore,
Sala Conferenze,
Si accetta Carte di Credito,
---
Dove siamo:

---
DEL LAGO HOTEL


Location: In the heart of the Sila Piccola, right on the shores of Lake Ampollino, near the villages of Palumbo and Trepidò, stands the Hotel del Lago, a comfortable recently restored hotel complex.

Rooms and Facilities: Standing on the edge of a luxuriant pine grove, it boasts comfortable en-suite rooms, some with a view over the lake, all with direct-dial telephones and TV, it also has a bar, car park, garden, discotheque, games room and basement restaurant.

Sport: Located not far from the ski-lift plant to the pistes and bobsleigh run, the hotel offers the possibility of practising other sports, such as swimming, windsurfing and horse- riding.

Cuisine: The cookery is subject of special attention. Tasty cookery encounters are often held in the hotel's basement restaurant, during which guests are informed of the culinary traditions of the Sila district. The restaurant, cosy and welcoming, offers the best of local traditional cookery and exquisite typical products, such as mushrooms, pressed pork, appetising conserves and locally produced fresh and matured cheeses. The first courses are excellent, such as the tagliatelle with boletus mushroom or the tasty home-made macaroni. The main courses should also be mentioned, mushroom-based or with locally-reared lamb or beef. Finally, the wine list is ample and well-assorted, offering the best of local and Italian labels.

Excursions: An ideal base for walking or horseriding both in the Sila Piccola and Grande, near Lakes Ampollino and Passante, as well as near to the Alli, Simeri e Tacina water courses, ideal for water sports and fishing enthusiasts, the Hotel del Lago is, in addition, not far from charming mountain centres like Cotronei, San Giovanni in Fiore, with the ancient abbey founded at the end of the twelfth century, Acerenthia, a medieval borough deserted for centuries, and Santa Severina, with its magnificent Norman castle.
Bar,
Rooms,
Garden-Park,
Panoramic Area,
Private Parking,
Phone in room,
Restaurant,
Bathroom with shower,
Tv Color,
Lift,
Conferences Room,
Credit Card accept,
---
Where we are:

Hotel Ristorante del Lago
LocalitÓ Lago Ampollino, Cotronei, KR, Italy